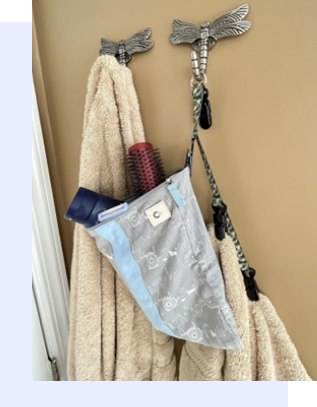 Efficient Bathroom Hooks & Towel Clips by Clip & Hang

Need help organizing your small towels, shower loofahs, or other items in your bathroom? With Clip & Hang, discover the ideal solution for compact bathroom hooks and versatile towel clips.

Shop Now
Why Our Towel Clips are a Must-Have
No More Wet Towels 

With our towel clips, you'll never step on a damp towel again.

Stylish & Functional

Our bathroom hooks not only hold but add elegance to your space.

Adaptable

Suitable for showers, walls, and more. They're the versatile solution to decluttering your bathroom.

Mold-Proof

Made for humid bathroom environments. Durable and long-lasting.
Clip & Hang Two Packs - 002 Black as Coal
Regular price
Sale price
$10.00 USD
Unit price
per
Sale
Sold out
3 sturdy clips to attach multiple items with a top clip to attach to soft fabric
View full details
Sofia R. - Boston, MA

I've always struggled with finding a place for my face towels and loofahs in my tiny bathroom. The Clip & Hang bathroom hooks are a lifesaver! Not only do they keep my small towels off the floor, but they also make sure everything dries so much faster. Plus, the design is sleek and fits right into my modern bathroom aesthetic. Highly recommend!

Ethan J. - Seattle, WA

As someone who shares a bathroom with roommates, organization is crucial. The Clip & Hang towel clips have been a game-changer for us. We can each have our designated hooks, and it's made our mornings so much smoother. The fact that they hold up to four items means we've got space for all our essentials. Brilliant product!

Mia K. - Austin, TX

I was skeptical at first, wondering how these clips could be any different from the other ones I've tried before. But the Clip & Hang™ towel clips really stand out. I use them for my hand towels and loofahs, and they just make the bathroom look tidier. What's even better is noticing that my towels and sponges dry faster. It's a small change that makes a big difference.
Bathroom Organization Hack You Didn't Know You Needed
Our specially-designed bathroom hooks provide a dedicated space for your small towels, bathroom items or shower loofahs ensuring they don't end up cluttered or on the floor. With the ability to hang up to 3 items, our hooks are not just functional; they're a game-changer for bathroom organization.
FAQs
1. Can I use Clip & Hang's bathroom hooks for heavy bath towels?

Our hooks are specifically designed for small towels, ensuring they have their dedicated space without overcrowding.
2. How many items can I hang using one hook or clip?

You can hang up to 4 items on our bathroom hooks, making them perfect for families or those with multiple bathroom essentials.
3.  Where can I ideally place the towel clips?

Our towel clips are versatile, perfect for keeping small towels off the bathroom floor or even hanging shower loofahs off the tub. Their design ensures efficient drying and better organization.
4. Is there any installation required for the clips?

No complex installations here! Our towel clips come with an easy-to-use loop, allowing them to be hung on the wall or any anchor point seamlessly.
5. How do the clips aid in drying?

By ensuring that towels or loofahs are not clumped or left on damp surfaces, our clips facilitate better airflow around them, leading to quicker and more efficient drying.